Writing techniques for Advance HE Fellowship
Use a proven technique and leave feeling confident in writing your application narrative.
Expert tips

From a Principal Fellow

3 step technique

Proven to help others

Sample narratives

Hear diverse stories

Interactive

Create your own narrative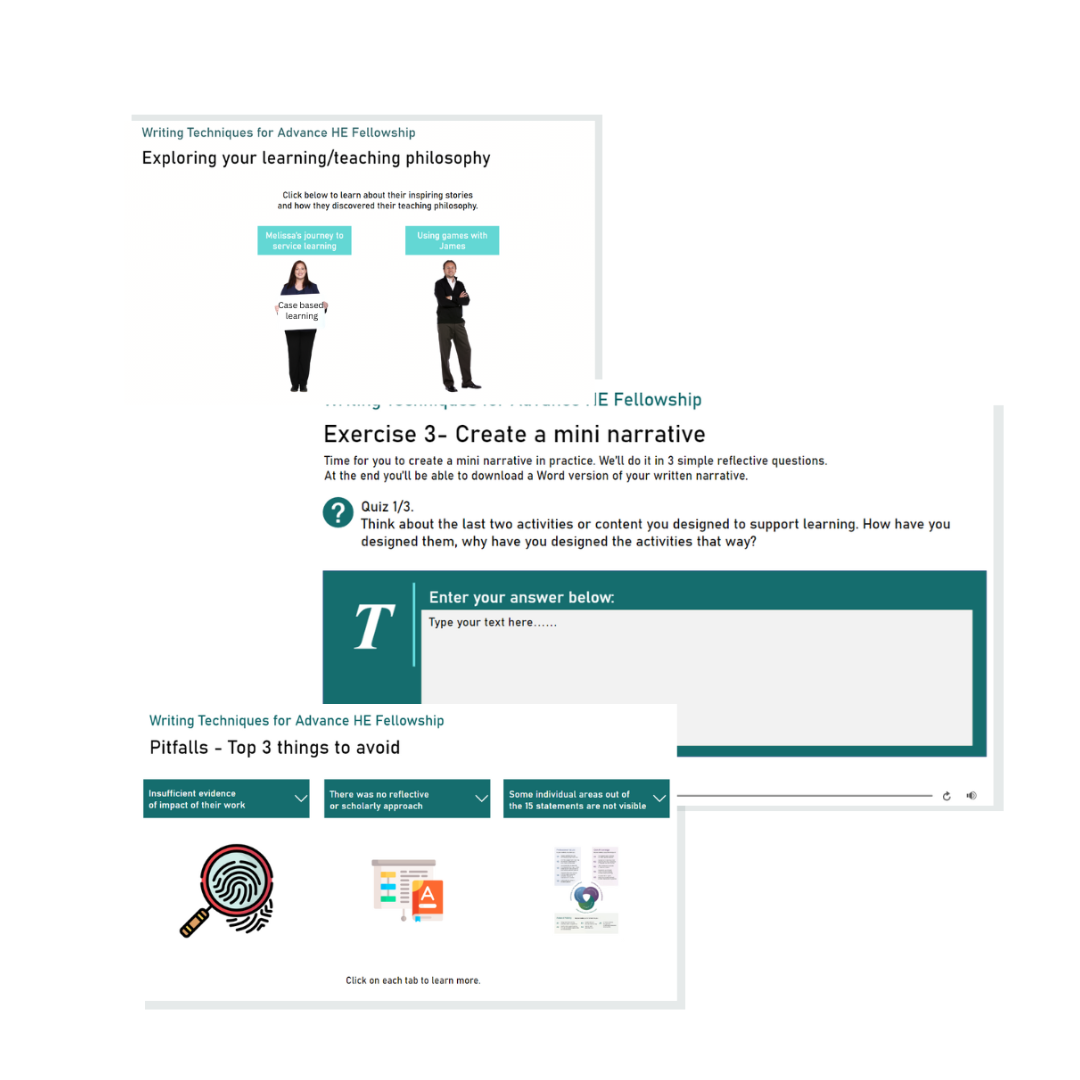 Who is it for?
This course is suitable for those applying for the Fellow category of fellowship with bonus content for Senior Fellows.

However, if you are new to writing a reflective narrative, you should find the writing techniques useful for any level of fellowship. We have aimed to have broad appeal including those who teach and those who support learning in non-classroom roles.

01
Apply a 3-step writing technique
3 step process / how to link your practical work to an educational theory / what is a "scholarly" narrative / two sample narratives / a multiple choice test / story of how to develop senior fellow "case study themes"
02
Explore your own learning and teaching philosophy
How to identify your "implicit" set of beliefs guiding you and how to make them "explicit / inspiring stories from two different characters
03
Write your first short narrative
Using 3 simple reflective questions put what you've learnt into practice / take away a download of your ideas
04
Identify common mistakes in writing a narrative
Top 3 themes and the 6 most common individual dimensions of the PSF that people can fall short on
Take a sneak peak
Get one step closer to gaining recognition of your work by mastering how to write your narrative!
Subscribe to our newsletter now!
Get weekly updates on live streams, news and more right in your mailbox.