Strategic thinking in practice
This course will help you present your ideas more strategically using a simple 4 step process. You'll learn the 5 traits of a strategic thinker.
17 key phrases

Speak confidently

2.5 hours

Course duration

Digital certificate

Instantly downloadable

6 case studies

Free of charge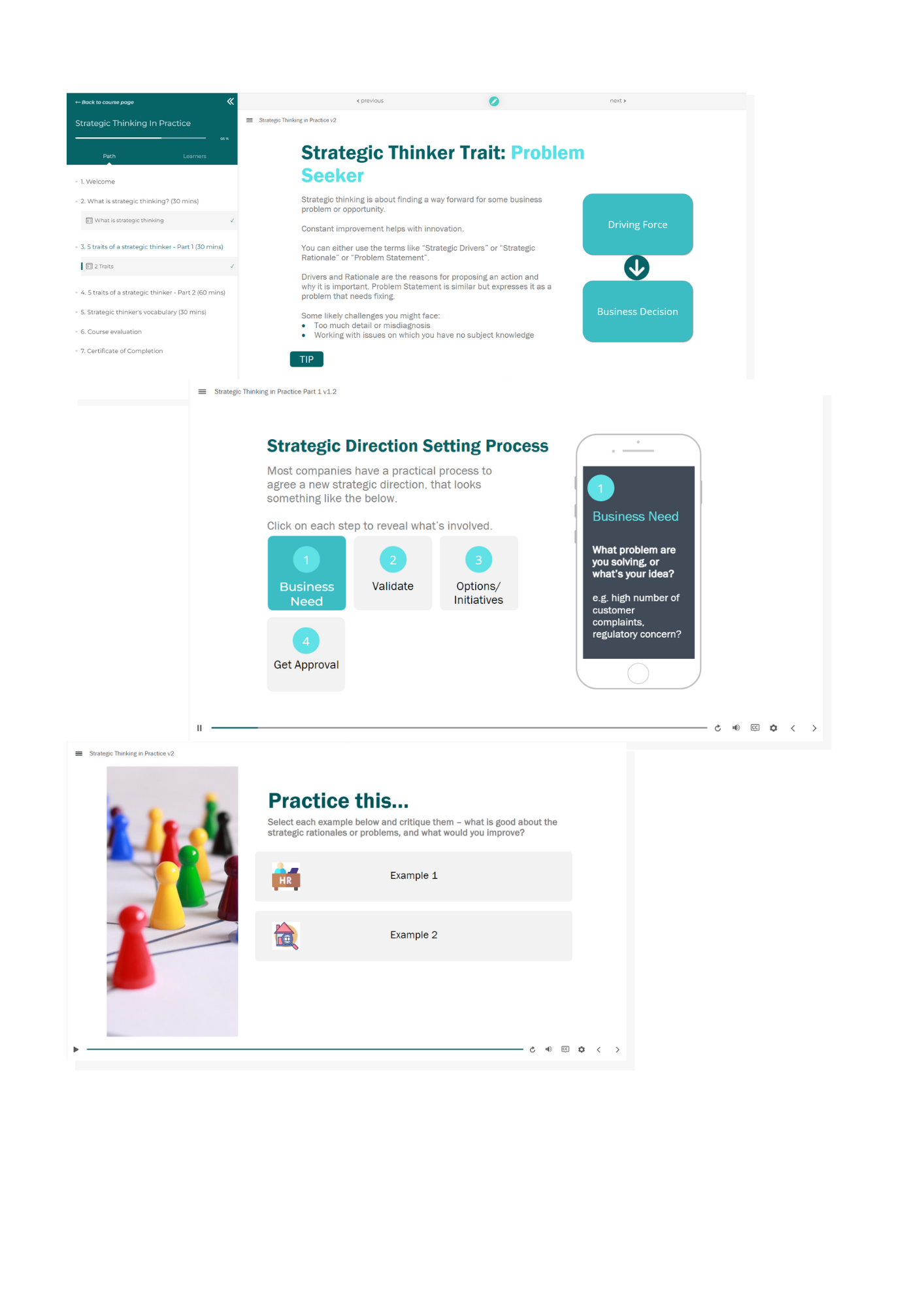 Who is it for?
Too operational? Learn daily habits to free your mind. This course is for anyone who is interested in developing their strategic thinking and presenting skills but is particularly suited for managers and above.

Especially if you find yourself in a role where ideas alone are not good enough, you have to find a way to package them for senior leaders and other stakeholders. Or where you role has evolved from controlling actions, to now influencing others.
01
Assess yourself against the skills of a strategic thinker
What is strategic thinking vs execution / why become a risk based thinker / 5 traits of a strategic thinker
02
Explain the basic process of agreeing a strategic direction
5 step strategic direction setting process / how to write a proposal for a new direction
03
Present a new strategic direction
Interactive Case Study on Adidas / learning how to present strategic "options"
Test the "Strategic Rationale"
How persuasive are the statements about make new investment?
Rate the "End Outcomes"
Is it clear which direction the companies are headed?
Angel Housing future state
See if you can prepare Angel Housing for a change in regulation.
"Patience" on Eliza's mobile app
What should Eliza do when faced with customer backlash?
Take a sneak peak
Communicate simply and effortlessly with this course and spark people into action
Subscribe to our newsletter now!
Get weekly updates on live streams, news and more right in your mailbox.